Arnold L. Beizer, author of "Saved By The Bell" a new book about Muhammad Ali Championing the cause of Freedom and about the Champ's Humanitarian visit to Vietnam in search of American POWs/MIAs recently attended the 2nd Annual Muhammad Ali Humanitarian Awards in Louisville Kentucky sponsored by the Muhammad Ali Center and Yum Brands.
Attorney Beizer, a long-time associate and fan of Muhammad Ali sponsored the Champs's visit to Vietnam in 1994 through his Let Freedom Ring, Inc. non-profit organization. While at the Humanitarian Awards dinner hosted by Today co- anchor Matt Lauer, Mr. Beizer reunited with Lonnie Ali, Muhammad's wonderful wife, and met Matt Lauer and legendary Cleveland Browns running back and NFL Hall of Famer Jim Brown, and shared his new book with them and with others.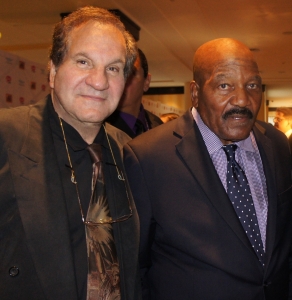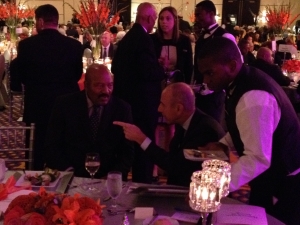 Author Arnold Beizer and Jim Brown pose together / Matt Lauer chats with Jim Brown
Saved By The Bell tells all about the 3-time World Heavyweight Boxing Champion from a personal and spiritual perspective and reveals that American POWs were left behind by the American Government after the Vietnam War was declared over. Hundreds of American servicemen were abandoned and written off for dead by the Senate, Congress and past presidents for political expediency. Some still survive! Details and conclusive evidence is provided in Saved By The Bell along with exclusive photos and classified documents of American POWs in captivity that were last known captured alive.
Muhammad Ali who was a conscientious objector to the Vietnam War traveled with Arnie Beizer and POW family members to S.E. Asia seeking answers to the whereabouts of missing servicemen. The quest for their release and return home is still ongoing. Amazing aspects of their story are told for the first time in Saved By The Bell, along with other great new stories in the life of Muhammad Ali that have never before been shared. Some of the best photos ever taken of the Peoples' Champ are included. A bonus DVD with a special Muhammad Ali Soliloquy is part of the special package.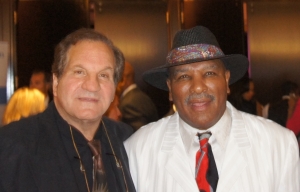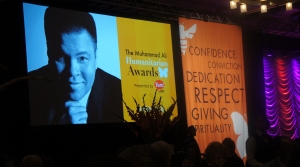 Arnold L. Beizer meets with Rahman Ali the Champ's brother at Muhammad Ali Humanitarian Awards
Arnold Beizer has written in his book that he believes The Lord will soon heal Muhammad Ai's physically debilitating illness that some have attributed to Parkinson's Syndrome. Beizer has prophesied that the Champ, once known as the "Louisville Lip" for his loquacious speaking, will miraculously regain his speaking ability and lift up his voice like a trumpet about being "Saved by the Bell'. Time will tell.