Muhammad Ali – "Saved By The Bell" Music Jingle
Now Get Ready to Rumble.
Twelve Rounds of Boxing

that will have you on the edge of your seat cheering!

When you buy this book about Muhammad Ali, you get a front row seat at ringside! Great days are ahead for "The Greatest" Boxer of all time whose motto and life's calling is, "Service to others is the rent you pay for your room here on earth."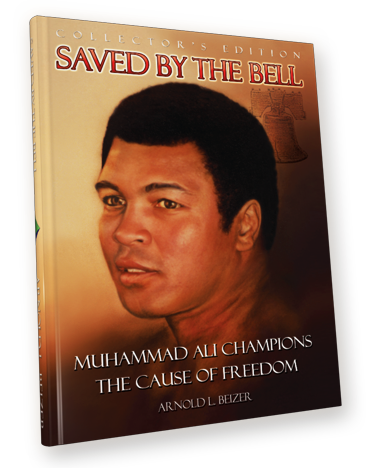 There is no one quite like Muhammad Ali
"The Greatest of All Times" is what he called himself and then he proved it. Muhammad Ali told the world, "I'm not conceited – I'm convinced" and then he demonstrated the difference…he backed up his claims! He was more than a pugilist, but a great sportsman and a good sport. He was a showman of the order of P.T. Barnum. Everyone he came into contact with left with a smile, a good time and great memories. He was a supreme athlete, entertainer, a comic, a promoter and an actor all wrapped up in one great package that can never be duplicated. He was the Original. When God made Cassius Clay who became Muhammad Ali, He threw away the mold. There will never be another quite like the Champ. This collectors book Saved By The Bell expounds on Muhammad Ali's amazing story.
Is there yet another

"Crown of Glory"

awaiting the Champ?
Will there be another Great Victory for the Champ just ahead? Who's The Greatest? Find out for yourself by ordering the Muhammad Ali Collector's Book Edition of SAVED BY THE BELL…
before thy are all gone! Give it as a gift to others and help to promote the cause of freedom.